I've read so many good books  in 2022.

I thought I'd share my favourites:
You Are Enough by Panache Desai is a beautiful book exploring samadhi - remembering who you truly are; a divine being. The author explores the life journey, including love, acceptance, trust and surrender.
It filled my soul.
I read Solve For Happy by Mo Gawdat after listening to Mo speak on Steven Bartlett's podcast The Diary of a CEO. (Episode 101). It is the true story of how a highly successful executive found himself on a quest to solve the happiness equation. And how once he did so, his formula was tested in the most extreme way.
Tissues may be required!
Midnight Library by Matt Haig is the only fiction book in my selection. A poignant and significant book about mental health, and the life choices we make. An exploration of love and regret, possibilities and hope.
I thought about it for weeks after I finished it.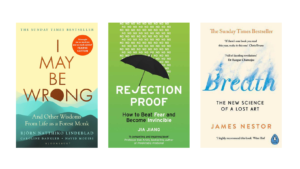 I May Be Wrong by Bjorn Natthiko Lindeblad a true story of one man's life as a forest monk and what he learned.

"

We don't choose our thoughts; we can only choose whether or not to believe them". 

A very moving read, punctuated with funny anecdotes and heaps of wisdom.
I didn't want it to end.
Rejection Proof by Jia Jiang in an attempt to become desensitised to rejection, Jiang attempts to get rejected 100 times. I really interesting look into why we fear rejection so much and what happens when we face up to it.
It really helped me see rejection differently.
Breath by James Nestor is already a classic on the subject of breathing. Nestor travels the world to discover why and how human beings have lost the ability to breathe properly. And he gets more than he bargained for!
The night I finished reading it, I taped my mouth shut at bedtime!!
What books
have you enjoyed reading this year?

I'd love to know.